| | |
| --- | --- |
| | Brunswick GS-98 Bowling Pinsetter |
Brunswick's GS-98 Pinsetter is one of the most efficient and user-friendly systems in the industry.

The complete Brunswick GS-98 Pinsetter set consists of 18 pieces.

Brunswick introduced the GS-98 Pinsetter in 1997. It is the system released just before the GS-X, which is considered to be the best system in the world.

The GS-98 is controlled and operated by a consolidated electronic system which uses a two control box system to reduce the number of printed circuit boards needed to operate the pinsetter.

Also, software and hardware improvements have made the GS-98 Pinsetter more efficient and user friendly.

GS-98 and GS-X Pinsetters have fewer moving parts that are susceptible to wearing out or failing than competitors' models. The G-98 is designed to handle pins gently, so they don't have to be replaced as often. That means less pin nicks, gouges or other damage with every game.

Pinsetters in the GS series are characterized by a sweep that rotates downward (as opposed to dropping) as soon as the ball enters the pin deck.

Brunswick bowling equipment has not only stable mechanical capacity, but it is also the most popular bowling equipment around the world. Among all the bowling equipment brands, Brunswick's failure rate is the lowest.




| | | | |
| --- | --- | --- | --- |
| Condition : | Used | Location : | Australia |
| Warranty : | No Warranty | Product Type : | Other Products |
Brunswick GS-98 Bowling Pinsetter features:

• High industry rating for reliability
• Complete set consists of 18 pieces
• Easy to train on and operate
• Simple mechanics
• Loading: 4pcs into 20ft, 8 into 40ft


Brunswick GS-98 Bowling Pinsetter - The Brunswick GS-98 Bowling Pinsetter
Brunswick GS-98 Bowling Pinsetter - Brunswick GS-98 Pinsetter
Brunswick GS-98 Bowling Pinsetter - The Brunswick GS-98 Pinsetter is one model before the GS-X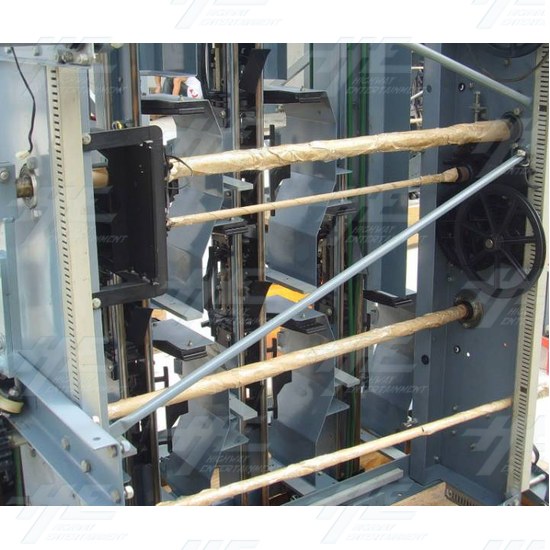 Brunswick GS-98 Bowling Pinsetter - The GS-98
Brunswick GS-98 Bowling Pinsetter - The G-98 system