PC/HDTV to PC/HDTV converter (CP-251F)





Product ID :
01992-0001
Price :

212.00

USD

(Change Currency)
Availability :
Please Ask





This unit combines the functions of a video-scaler, scan-converter, and format transformer into a compact and durable metal housing with easy-to-use touch buttons.

The CP-251F is controlled via push button and OSD menu. The controls include input/output setup picture adjustment, H/V phase adjustment, and many other advanced features.

| | | | |
| --- | --- | --- | --- |
| Location : | Australia | Product Type : | Converters |
Features:
CP-251F not only is a video scaler it is also a scan converter and a format transformer.
The resolution of any PC or HDTV inputs can be scaled up or scaled down to any other PC or HDTV resolution, along with its frame rate converted to a selectable frequency.
48 MB frame memory for frame rate conversion.
Signal format conversion between RGBHV and YPbPr.
Input: PC(VGA/SVGA/XGA/SXGA), HDTV(480i/576i/480p/567p/720p/1080i), FH: 60 to 85 Hz
Output: PC(VGA/SVGA/XGA/SXGA), HDTV(480p/576p/720p)
Input mode auto detection.
Input Setup allows for fine-tuning the output picture to a best condition through the adjustment of ADC sampling clock, and phase.
Easy- to- use push buttons and OSD menu control.
Connections:
Input/Output: PC (15-pin D-sub cable), HDTV (15-pin D-sub to YpbPr/3 RCA cable).
When accepting a PC input use the 15-pin D-sub cable to connect the output of a PC device to the input connector labeled PC/HDTV on the back of CP-251F.
When accepting a HDTV input use the 15-pin D-sub to YPbPr/3 RCA cable to connect the YPbPr/output (or YCbCr) of a HDTV device to the PC/HDTV input connector of the CP-251F.
PC output resolutions of up to 1280 x 1024
HDTV output resolutions of up to 1280 x 720
For more information including freight calculation and online ordering, please click here:
http://www.converters.tv/products/converters/video_to_vga_converters/81.html
PC/HDTV to PC/HDTV converter (CP-251F) - Angle view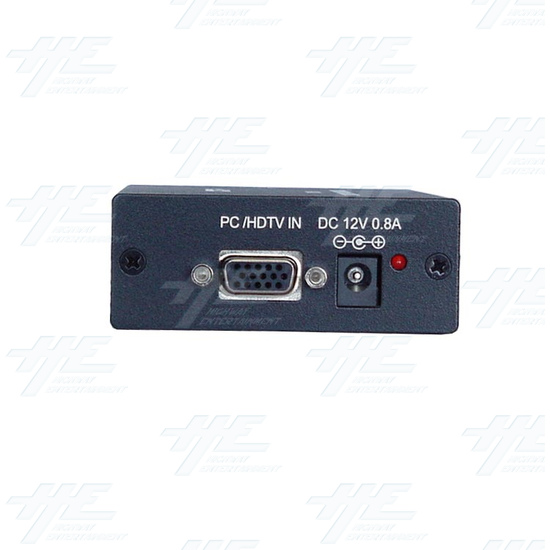 PC/HDTV to PC/HDTV converter (CP-251F) - Side view 1
PC/HDTV to PC/HDTV converter (CP-251F) - Side view 2
PC/HDTV to PC/HDTV converter (CP-251F) - VGA cord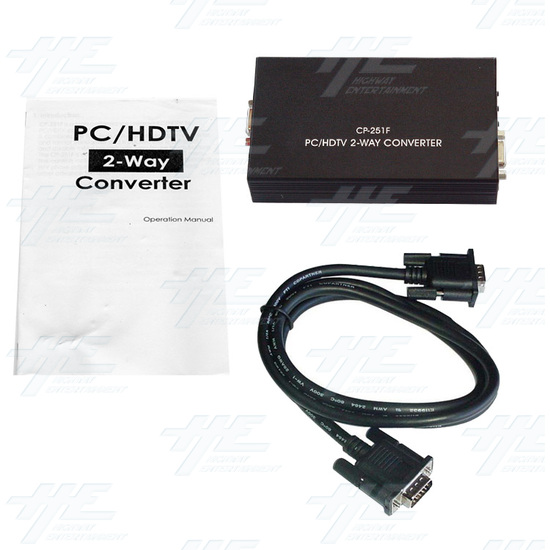 PC/HDTV to PC/HDTV converter (CP-251F) - Full kit