15 Assorted Arcade Header Bulk Bundle

save 63%





Product ID :
16995-0012
Price :

45.63

USD

(Change Currency)
RRP: 126.35 USD
(less discount 80.72 USD)

Availability :
In Stock





The 15 Assorted Arcade Header Bulk Bundle includes 15 headers and player instructions from Sega, Namco, and more; perfect for those looking to collect artwork, update their machines or breathe new life into their gaming area.

This bundle features a range of different headers from a variety of popular arcade games. These header range from generic headers to factory originals and range in concdition. Some are in new condition, some are used, and some have slight damage (have been cut to fit or damaged unintentionally). This truly is a mixed bag!

The bundle includes:


1x Namco Speed Racer Large Header
1x The House of the Dead Header
1x Sports Station - NFL Blitz 2000 GOLD edition/NBA Showtime Header
1x Storm Blade Header
1x Taito Operation Wolf 3 Header
1x NBA Jam Extreme Header
1x Task Force Harrier Header
1x Sega Outtrigger Header
1x Sega Virtua Striker 2 Version '98 Header
1x Major Title 2 Header
1x Tekken Generic Header
1x Jojo's Venture Header
1x Terra Cresta Generic Header
1x Atari Xybots Header
1x Sega Zombie Revenge

This is an amazing bundle of headers! Don't miss your chance to grab some arcade collectibles and artwork at incredibly low prices! If you are interested in this bundle, you can contact our sales staff for more information or go straight to checkout.

| | | | |
| --- | --- | --- | --- |
| Unit Dimensions : | 40.0W x 38.0D x 19.0H cms | Condition : | Used |
| Shipping Weight : | 5.776 kg | Physical Weight : | 1.700 kg |
| Location : | Australia | Warranty : | No Warranty |
| Product Type : | Headers | | |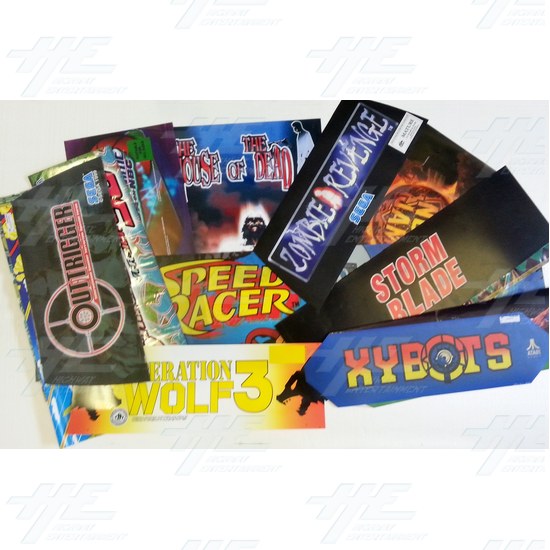 15 Assorted Arcade Header Bulk Bundle - Assorted Headers