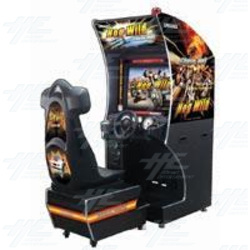 Uniana's latest driving game, Hog Wild, is now in Australia. The game requires players to arrest motorcycle gangs that have gone out of control.

Players have to complete 2 missions together to clear the stage. One is to pass the finish line within default time and the other is to atack and arrest motorcycle gangs.

The game features are;


Auto Level Adjusting System

Dynamic Mode and Turbo System

9 stages(There are 3 stages in easy, normal, and hard respectively.) + 3 hidden stages = 12 stages in total

Tuning car selectable after completing 3 stages in easy, normal, or hard sectors

Four selectable characters in easy, normal, and hard sectors(One character riding motor bike is added in hidden stages, so five selectable characters in hidden stages)

Sit Down Dedicated Video Cabinet and 29 Inch Monitor

The machine is currently on test at Macquarie Intencity located at Sydney's Macquarie Shopping Centre. Our main delivery is scheduled for 28th June - for more information please contact our sales staff.