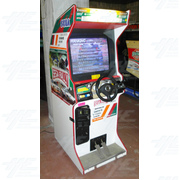 The Sega Rally 2 Upright Arcade Machine is the epitome of racing arcade machine. A classic game from the mid 90's, Sega Rally features manual or automatic options and the choice of 2 cars - Toyota and Lancia.

Don't Pay
$1772.72 AUD exc. GST

Save 5%
$1681.81

AUD exc. GST
Cyclone Fever is a colourful token machine from Konami, available in both dual and single cabinets.It is a four player classical medal featuring many scoring and chance opportunities.

Don't Pay
$3631.82 AUD exc. GST

Save 75%
$904.54

AUD exc. GST
Wave Runner DX is a jet ski racing game that simulates the real-life jet ski experience. Players sit on and control an actual Yamaha Waverunner that is built into a hydraulic cabinet. The Wave Runner DX also features a 3 axis motion system which moves up, down, left and right, giving the machine an authentic jet ski feel.

Don't Pay
$1681.82 AUD exc. GST

Save 78%
$359.09

AUD exc. GST