The Entertainer 26inch Arcade Machine (Red Version)





Product ID :
17937-0002
Price :

1811.13

USD

(Change Currency)
Promotion: Save $12.09
Availability :
In Stock





Promotional Offer
GET THESE ITEMS WHEN YOU BUY The Entertainer 26inch Arcade Machine (Red Version)

FREE!


save $12.09 USD

THE ARCADE PARTY MACHINE


ARCADE

The Entertainer arcade machine truly is the life of the party with High-definition 26-inch LCD display, Bluetooth audio connectivity and powerful 2.1 Arcooda™ subwoofers to provide the most exciting and immersive arcade gaming experience on the market.
No expense has been spared on the Entertainer's quality components, including massive key-lockable 100L fridge with dual power switching for your own and your guests' convenience and safety, as well as commercial wheels with separate stoppers, so you can set up your Entertainer however your heart desires.

DRINKS

Your functions have never been as much fun as they are with The Entertainer! Keep family, friends and colleagues entertained for hours with free drink holders, the game is never over.

MUSIC

There are absolutely no limits to your entertainment with jukebox functionality via Bluetooth audio connection. The power and clarity of 2.1 Arcooda subwoofers ensures your music is top notch. Make The Entertainer the centerpiece of your next party.


MAKE IT YOUR OWN!

The versatility of the Entertainer makes it the perfect multi-functional machine for your home, your business, or any other setting where you want limitless entertainment.
Fully customisable decals allow you to make your Entertainer™ uniquely yours. Your Entertainer could be the perfect advertising space for your business promotions or an artwork showcasing your favourite video game characters.

PLUG AND PLAY!

The Entertainer comes with more than 2800 GAMES, along with easily upgradeable, plug and play capability.


| | | | |
| --- | --- | --- | --- |
| Unit Dimensions : | 71.5W x 70.6D x 176.0H cms | Shipping Weight : | 231.000 kg |
| Physical Weight : | 106.000 kg | Voltage : | 240 Volts |
| Location : | Australia | Coin Mech : | No Coin Mech |
| Warranty : | 12 Months | Product Type : | Arcade Machines |
| Version Type : | English Version | | |
FULL FEATURE LIST
26 Inch LCD Display
Game Board included with 2800 games
2.1 Subwoofer Stereo Sound System
Bluetooth Audio Connectivity
Customisable Decals
Strong and Sturdy Cabinet Build
2 Player Control Panel with Audio Control
Durable Joysticks and Buttons
Set to Free Play
Large 100L Bar Fridge
Dual Switched Power System
Key Lockable Fridge and Cabinet
Industrial Wheels for Easy Transport
Plug and Play Upgrade Capability
No Installation Required, Just Plug it in!
The Entertainer 26inch Arcade Machine (Red Version) - Entertainer Red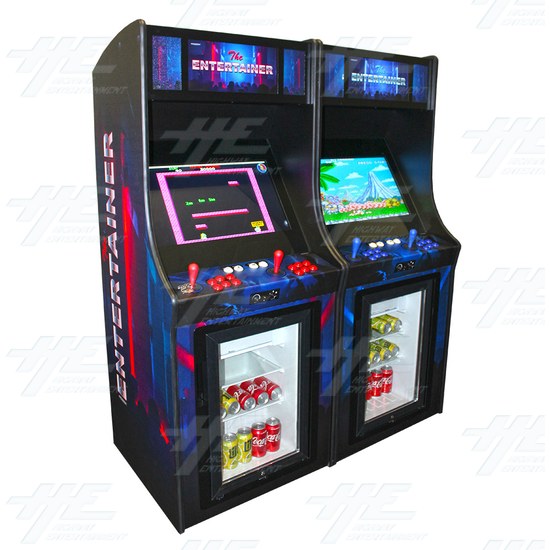 The Entertainer 26inch Arcade Machine (Red Version) - Entertainer - Red and Blue
The Entertainer 26inch Arcade Machine (Red Version) - Entertainer - Red and Blue Front Views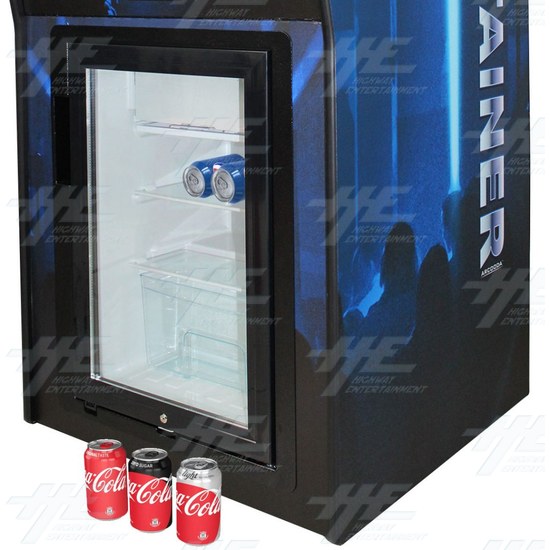 The Entertainer 26inch Arcade Machine (Red Version) - Entertainer Fridge
The Entertainer 26inch Arcade Machine (Red Version) - Entertainer Red & Blue
The Entertainer 26inch Arcade Machine (Red Version) - Entertainer Bluetooth
The Entertainer 26inch Arcade Machine (Red Version) - Entertainer - Red Control Panel View
The Entertainer 26inch Arcade Machine (Red Version) - Entertainer Screen View