Slushie Stars 15L Slushie Machine





Product ID :
19275-0001
Price :

1148.36

USD

(Change Currency)
Promotion: Save $68.79
Availability :
In Stock





Promotional Offer
GET THESE ITEMS WHEN YOU BUY Slushie Stars 15L Slushie Machine

FREE!


save $10.86 USD


FREE!


save $12.07 USD


FREE!


save $10.86 USD


FREE!


save $12.07 USD


FREE!


save $12.07 USD


FREE!


save $10.86 USD

The Slushie Stars Slushie Machine will provide customers with a wide range of delicious family and sdult ranged drinking options. With the stainless steel body and Polycarbonate 15LitreTank capable of holding 40 cups per use, it is both robust, durable and easy to use, Featuring an intuitive control panel you can easily switch between the slushie and cold drink modes giving uses the option to make the drinks chilled rather than frozen. This adaptable nature of this machine makes it perfect for any event - such as Saturday barbecues, birthday parties, hens night or a tasty afterschool treat or as an additional revenue service to a storefront with the potental for up to 700% profit turnover whatever your needs.

The Slushie Stars Slushie Machine boasts an innovative 500W powerful compressor and copper condenser refrigeration system for fast preparation times and a large hopper that is perfect for icy drinks, including fruit juice, tea, Slurpee, frozen cocktails, iced coffee, etc. Whether you're adding it to your restaurant, hotel, or bar, this machine is exactly what you need to streamline and boost your frozen beverage service.

This machine boasts an extra-long dispenser handle and a detachable drip tray. It also features air vents on 3 sides and can effectively heat dissipation. The rubber feet also keep the machine steady.

The Slushie Stars Machine can hold 15L of drink at one time, which makes it a great commercial machine. The profit margin when selling slushies is also incredibly high as a passive income, as there is a low product cost when purchasing the Flavours.

Note: Sugar syrups are essential when using the drink machine and is to be combined with the correct water ratios during the procedure. Please follow the instructions on the syrup flavour bottles carefully.

| | | | |
| --- | --- | --- | --- |
| Unit Dimensions : | 21.0W x 52.0D x 80.0H cms | Condition : | New |
| Shipping Weight : | 48.000 kg | Physical Weight : | 33.000 kg |
| Voltage : | 240 Volts | Location : | Australia |
| Packing Terms : | Full Wood Crating with Pallet | Warranty : | 12 Months |
| Product Type : | Vending Machines | Version Type : | English Version |
Features:
Cabinet Material: Stainless Steel + PC + ABS
Control Panel Material: Acrylic
LED Cabinet Lighting: 12V Standard LED Globes
Integrated buttons
Detachable drip tray
Perfect for Icy Drinks, including Fruit Juice, Slushie, Frozen Cocktails, Iced Tea & Coffee
Easy to use
Specifications:
15Litre capacity food grade plastic Tank
Makes up to 40 cups of Slush
Efficient Refridgeration with a 500w powerful motor
Stainless Steel Casing
Wireless Lighting Circuit
Slushie Stars 15L Slushie Machine - Slushie Stars Machine
Slushie Stars 15L Slushie Machine - Slushie Stars Machine
Slushie Stars 15L Slushie Machine - Angle View
Slushie Stars 15L Slushie Machine - Front View
Slushie Stars 15L Slushie Machine - Side View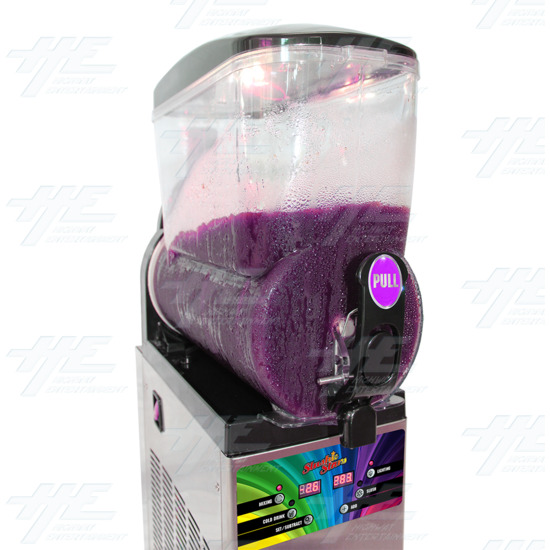 Slushie Stars 15L Slushie Machine - Header Lighting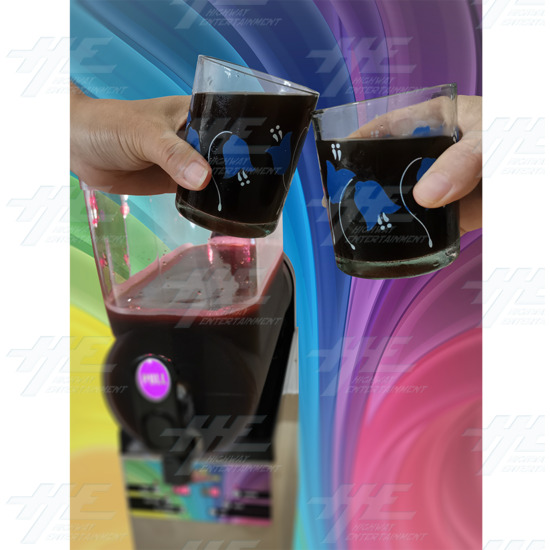 Slushie Stars 15L Slushie Machine - Also Serves Cold Drinks