Radikal Darts Electronic Dart Machine

save 23%





Product ID :
09827-0003
Price :

1535.08

USD

(Change Currency)
RRP: 2003.30 USD
(less discount 468.22 USD)

Availability :
In Stock





Radikal Darts is an electronic dart Machine from Gaelco, Spain. The machine has two in built cameras, sensors, and a laser which measures the exact throwing distance. If the player steps over the laser line, that throw will automatically be considered invalid. Players can play in online mode and verse other players in real time across the globe, and are able to see their opponent and their throws via the in built camera.

Radikal Darts is the first and only electronic dart machine to allow tournaments to be played without the presence of a referee. The game has a remote refereeing system (RRS) that prevents players from cheating. When connected to the internet, the RRS uploads game data and video to a dedicated server and analyzes and validates the information.

The machine also has a card reader system that allows players to register their own player cards. Players are able to enter their cards and the machine will recognize them immediately.



| | | | |
| --- | --- | --- | --- |
| Condition : | Excellent | Shipping Weight : | 191.500 kg |
| Voltage : | 220 - 240 Volts | Location : | Australia |
| Warranty : | 7 days testing warranty | Product Type : | Dart Machines |
Electronic Dart machine using plastic soft tip darts
Remote Refereeing System developed by Gaelco Darts
Cameras to monitor play and players
Laser beam to control throwing distance
17" panoramic TFT monitor
Player ID card reader
Integrated competition design software
Please note, the coin mech is missing.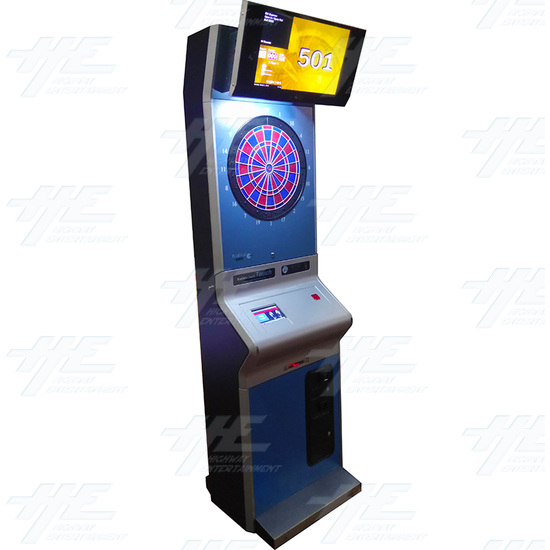 Radikal Darts Electronic Dart Machine - Radikal Darts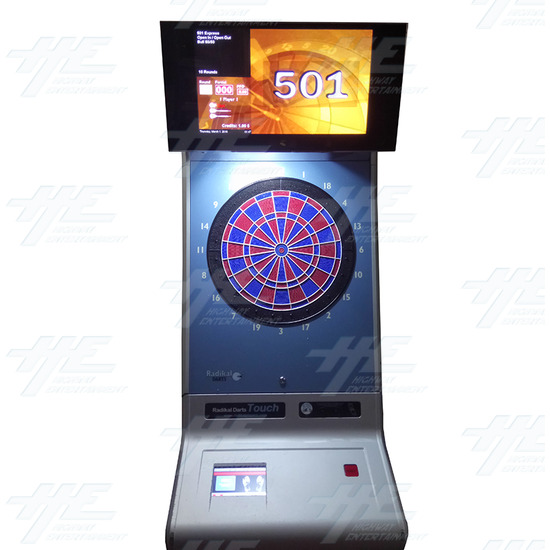 Radikal Darts Electronic Dart Machine - Radikal Darts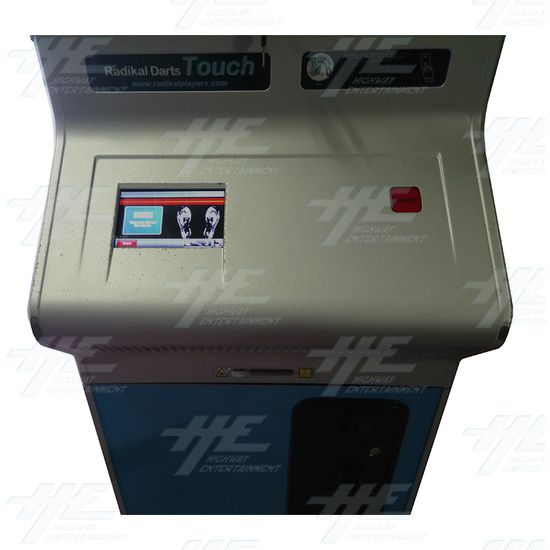 Radikal Darts Electronic Dart Machine - Radikal Darts
Radikal Darts Electronic Dart Machine - Full View
Radikal Darts Electronic Dart Machine - Brochure Front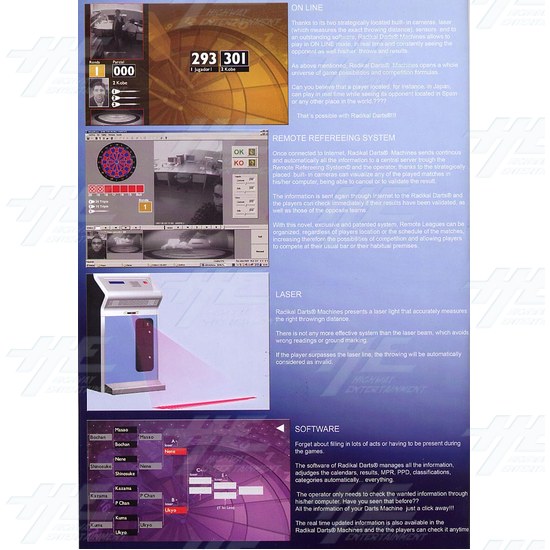 Radikal Darts Electronic Dart Machine - Brochure Inside 01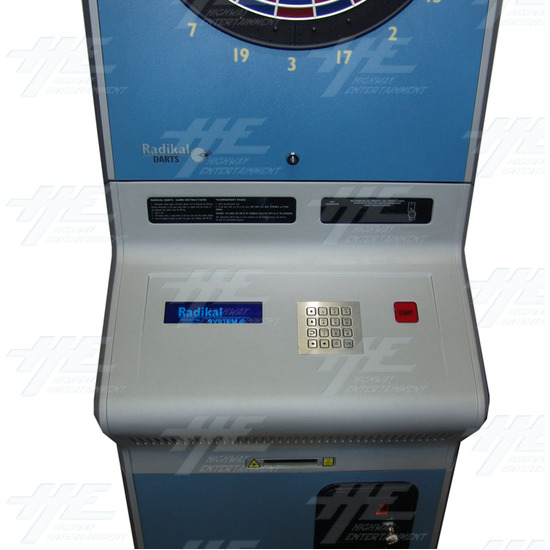 Radikal Darts Electronic Dart Machine - Panel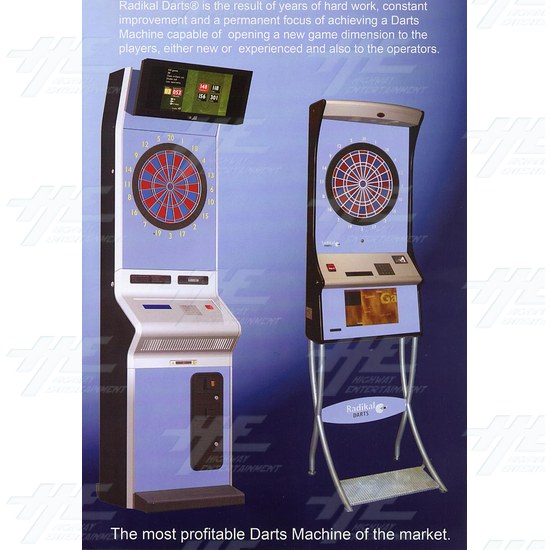 Radikal Darts Electronic Dart Machine - Brochure Inside 02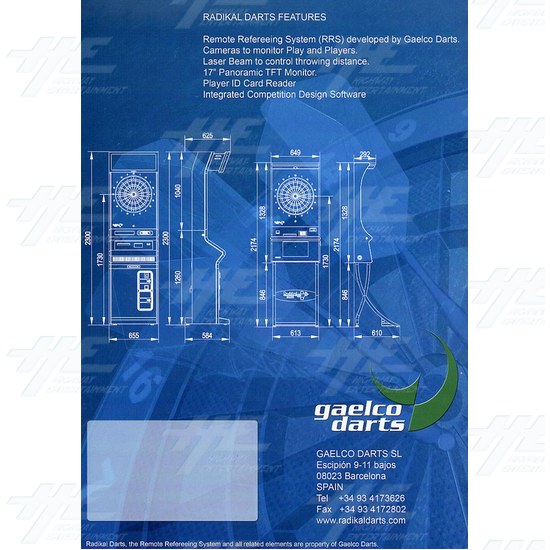 Radikal Darts Electronic Dart Machine - Brochure Back
Radikal Darts Electronic Dart Machine - screenshot
Radikal Darts Electronic Dart Machine - Floor Sensor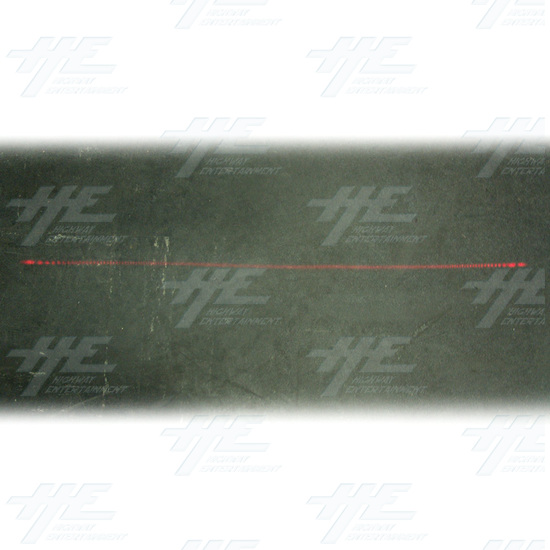 Radikal Darts Electronic Dart Machine - Floor Projection