Daytona Championship USA DLX Arcade Driving Machine (Twin Seat)





Product ID :
17335-0002
Price :

9067.75

USD

(Change Currency)
Availability :
In Stock





Daytona Championship USA DLX (Twin Seat) is the holy grail of arcade racing.

Daytona Championship USA DLX comes 18 years after Daytona USA 2: Battle on the Edge was released (in 1998) and 22 years after Daytona USA was first launched in 1994.

This brand new entry brings Sega's #1 racer screeching into the 21st century.

Daytona Championship USA DLX features three brand new tracks including a recreation of the newly renovated Daytona International Speedway.

In addition, the original three classic courses have been remastered for the modern era.

Sega has gone all out to stand out from the pack. Lit from top to bottom Daytona even has a moulded under seat engine.

New game features include a live camera feed so you can enjoy maximum bragging rights as you overtake your friends. Also, brand new to Daytona is the 'Live TV' inspired video billboard.

This brand new feature allows spectators to see what's happening in the race, whether it's a crash, a pass for position or to find out who's winning or losing.

DAYTONA® is a registered trademark of the International Speedway, Inc. and licensed to International Speedway Corporation.



| | | | |
| --- | --- | --- | --- |
| Condition : | Excellent | Shipping Weight : | 2479.464 kg |
| Physical Weight : | 660.000 kg | Voltage : | 240 Volts |
| Location : | Australia | Plug Type : | Australian Model |
| Coin Mech : | No Coin Mech | Shipping Terms : | Ex Works |
| Warranty : | 3 days testing warranty, 30 days on display, 30 days on game board | Product Type : | Driving Machines |
| Version Type : | English Version | | |
Daytona Championship USA DLX features:

• Linkable up to 8 players
• Spectator video billboard marquee
• 3 brand new tracks, 3 remastered original classics
• All new party tournament mode
• Sega-IQ intelligent service menus
• Live player cam feed
• 47" LED screen

Dimensions:

2 Player Setup: 72" 90" 93" x660kg

Additionally you can link more machines for :-

4 Player Setup: 72" 180" 93" x1320kg
8 Player Setup: 72" 360" 93" x2640kg

Please Note:

• No Coinmechs are included.
• No Locks are included.
• Some scratches to the seats.
• Shifters are faulty and not working.
• Unit 1 has some damage on the bottom left side timber (see photo)
• Unit 2 has a worn down steering wheel padding (see photos)


Daytona Championship USA DLX Arcade Driving Machine (Twin Seat) - Daytona Championship USA DLX Twin Machine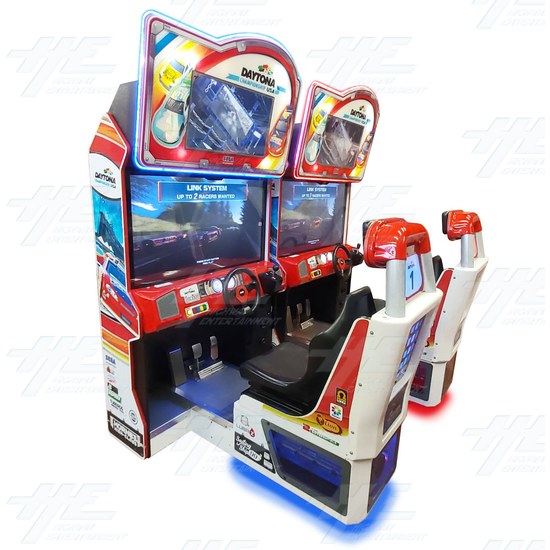 Daytona Championship USA DLX Arcade Driving Machine (Twin Seat) - Daytona Championship USA DLX Twin - Angle View
Daytona Championship USA DLX Arcade Driving Machine (Twin Seat) - Daytona Championship USA DLX Twin - 2x 47" Monitors
Daytona Championship USA DLX Arcade Driving Machine (Twin Seat) - Daytona Championship USA DLX Twin - Unit 1 Dashboard
Daytona Championship USA DLX Arcade Driving Machine (Twin Seat) - Daytona Championship USA DLX Twin - Unit 1 Seat
Daytona Championship USA DLX Arcade Driving Machine (Twin Seat) - Daytona Championship USA DLX Twin - Unit 1 Seat
Daytona Championship USA DLX Arcade Driving Machine (Twin Seat) - Daytona Championship USA DLX Twin - Unit 1 Coin Door
Daytona Championship USA DLX Arcade Driving Machine (Twin Seat) - Daytona Championship USA DLX Twin - Unit 1 Shifter
Daytona Championship USA DLX Arcade Driving Machine (Twin Seat) - Daytona Championship USA DLX Twin - Unit 1 Header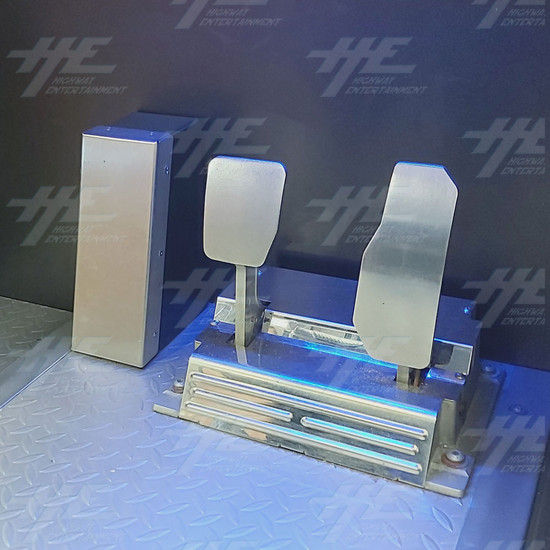 Daytona Championship USA DLX Arcade Driving Machine (Twin Seat) - Daytona Championship USA DLX Twin - Unit 1 Pedals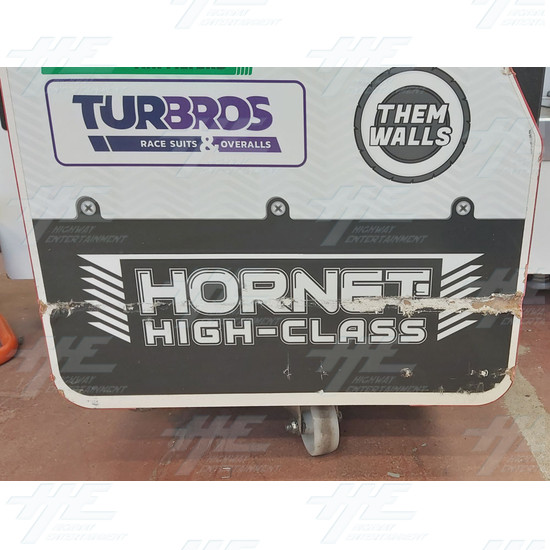 Daytona Championship USA DLX Arcade Driving Machine (Twin Seat) - Daytona Championship USA DLX Twin - Unit 1 Timber Damage
Daytona Championship USA DLX Arcade Driving Machine (Twin Seat) - Daytona Championship USA DLX Twin - Unit 2 Dashboard
Daytona Championship USA DLX Arcade Driving Machine (Twin Seat) - Daytona Championship USA DLX Twin - Unit 2 Seat
Daytona Championship USA DLX Arcade Driving Machine (Twin Seat) - Daytona Championship USA DLX Twin - Unit 2 Seat
Daytona Championship USA DLX Arcade Driving Machine (Twin Seat) - Daytona Championship USA DLX Twin - Unit 2 Coin Door
Daytona Championship USA DLX Arcade Driving Machine (Twin Seat) - Daytona Championship USA DLX Twin - Unit 2 Shifter
Daytona Championship USA DLX Arcade Driving Machine (Twin Seat) - Daytona Championship USA DLX Twin - Unit 2 Header
Daytona Championship USA DLX Arcade Driving Machine (Twin Seat) - Daytona Championship USA DLX Twin - Unit 2 Pedals
Daytona Championship USA DLX Arcade Driving Machine (Twin Seat) - Coinmech Housing - No Coinmechs included
Daytona Championship USA DLX Arcade Driving Machine (Twin Seat) - Daytona Championship USA DLX Twin - Unit 2 Worn Steering Wheel
Daytona Championship USA DLX Arcade Driving Machine (Twin Seat) - Daytona Championship USA DLX Twin - Unit 2 Worn Steering Wheel
Daytona Championship USA DLX Arcade Driving Machine (Twin Seat) - Machine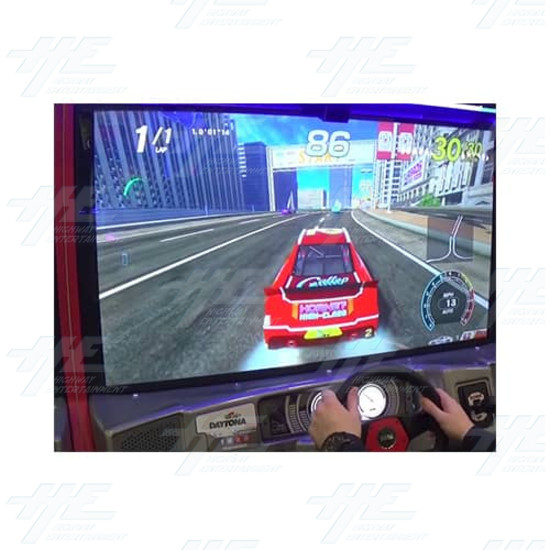 Daytona Championship USA DLX Arcade Driving Machine (Twin Seat) - screenshot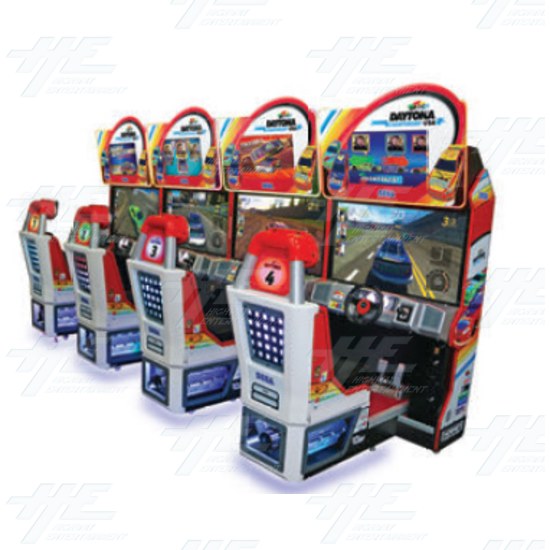 Daytona Championship USA DLX Arcade Driving Machine (Twin Seat) - Daytona 3: Championship USA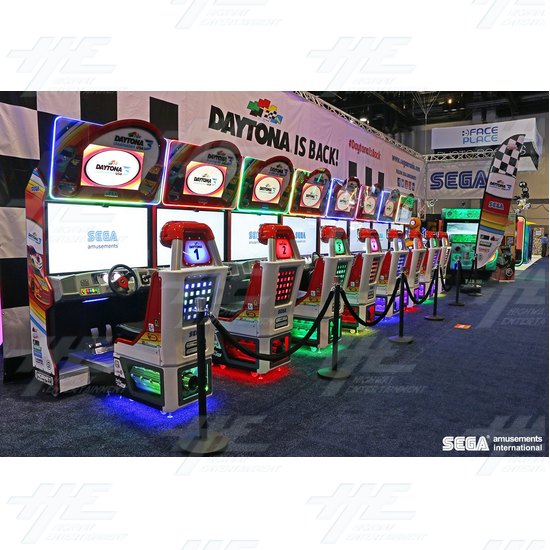 Daytona Championship USA DLX Arcade Driving Machine (Twin Seat) - Daytona 3: Championship USA pictured at 2016 IAAPA Attractions Expo