Game Wizard Xtreme Grey Version Arcade Machine

save 20%





Product ID :
11250-0019
Price :

2673.38

USD

(Change Currency)
RRP: 3342.56 USD
(less discount 669.18 USD)

Availability :
In Stock





The Game Wizard Xtreme is the most advanced arcade machine in the market. it is Australia's first multi-platform arcade system with a patent pending design.

The Game Wizard Xtreme is compatible with a huge range of consoles, PCBs and arcade motherboards, including: Xbox 360, Xbox One, PlayStation 3, PlayStation 4, PC, JAMMA Boards and late model arcade game boards.

The cabinet itself uses a modular design for easy exchange of pieces and is comprised of quality parts, including Sanwa Japanese buttons, and is a high-end, premium arcade machine.

This machine is all about ease of use through plug and play operation. You can switch between gaming systems with ease and changing a game can be as simple as changing a disc. Plus, allowing both old and current model arcade game boards to work without any problems makes the Game Wizard Xtreme the complete package.



Disclaimer: All product and company names are trademarks™ or registered® trademarks of their respective holders. Use of them does not imply any affiliation with or endorsement by them.


| | | | |
| --- | --- | --- | --- |
| Condition : | New | Shipping Weight : | 271.000 kg |
| Physical Weight : | 125.000 kg | Voltage : | 240 Volts |
| Location : | Australia | Plug Type : | Australian Model |
| Packing Terms : | Pallet and Wrapping | Coin Mech : | Electronic Coin Mech (Brand Varies) |
| Shipping Terms : | Ex Works | Warranty : | 12 Months |
| Product Type : | Arcade Cabinets | Version Type : | English Version |
| Certificates : | CE, CTick, UL | | |
Premium features include:
Full steel (black powdercoated) cabinet construction (not MDF or chipboard)
32inch HD LCD monitor supporting both VGA/HDMI (not 17-20inch)
Japanese Sanwa joysticks & buttons (not China made copy)
Jamma Wiring System (not adapter board style)
4 wheels & stoppers for portability (not fixed position product)
Dual left & right speaker (not fixed one speaker system)
Full SAA & C-Tick safety approval (virtually all others in Australia do not offer)
Bonus spare parts and full 12 months warranty
Even more advanced features:
Arcade Gaming: multiple power supplies, harnesses and internal adapters means that you can play almost all game boards – from early classics, to late model JVS/USB gaming boards such as Namco 357, Taito X3 and so on. All plug and play.
Old School Gaming: just want to add your own "combo board". No problem, just plug into the existing Jamma harness and start playing.
Advanced Console Gaming: allows plug and play of Xbox 360, Xbox One, PlayStation 3, PlayStation 4, PC, Raspberry Pi, Android, and now Nintendo Switch consoles in your cabinets. Enjoy the widest range of games on your Game Wizard Xtreme machine.
Regular firmware updates to ensure future console compatibility and continuous improvement to software. When new consoles are released, upgrade (free) your Xtreme machine to the latest console with firmware update. The Game Wizard Xtreme uses the HIGHWAY IO board, a custom designed IO board supporting the widest range of gaming options.
Why buy pretend arcade machines which will sit in a corner of your games room, when you can have the highest end gaming machine and played daily. Play the way you want, when you want – everything in the Game Wizard Xtreme is ready.
Price includes 2 commercial swivel stools, spare parts and everything ready for your gaming experience.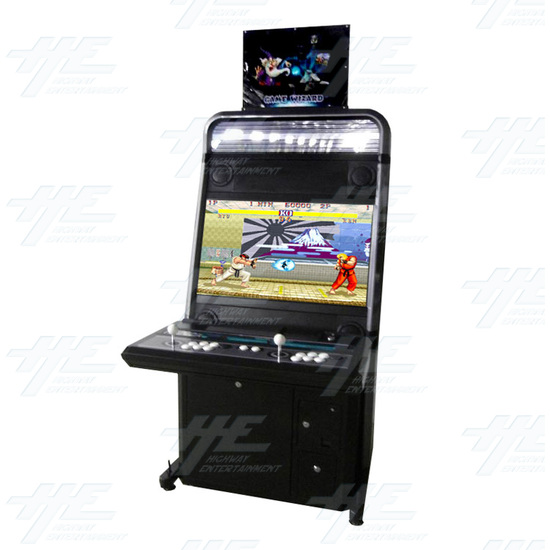 Game Wizard Xtreme Grey Version Arcade Machine - Full View 1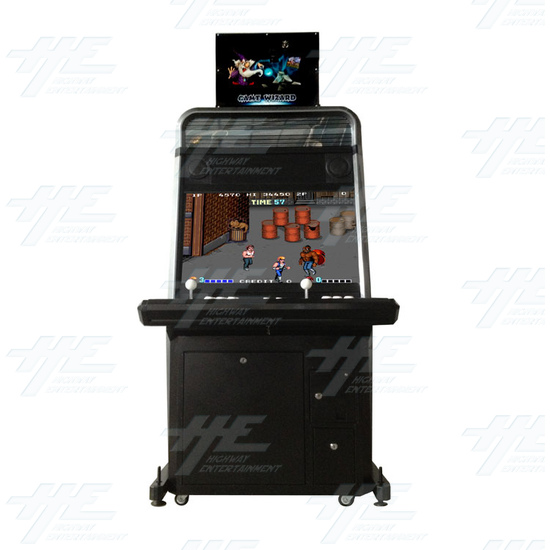 Game Wizard Xtreme Grey Version Arcade Machine - Front View
Game Wizard Xtreme Grey Version Arcade Machine - Side View 1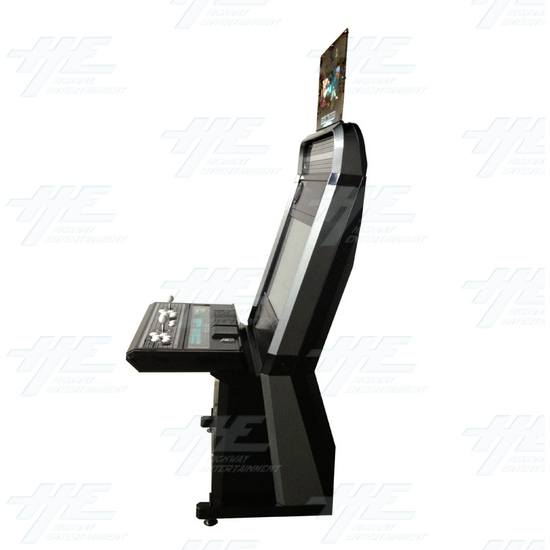 Game Wizard Xtreme Grey Version Arcade Machine - Side View 2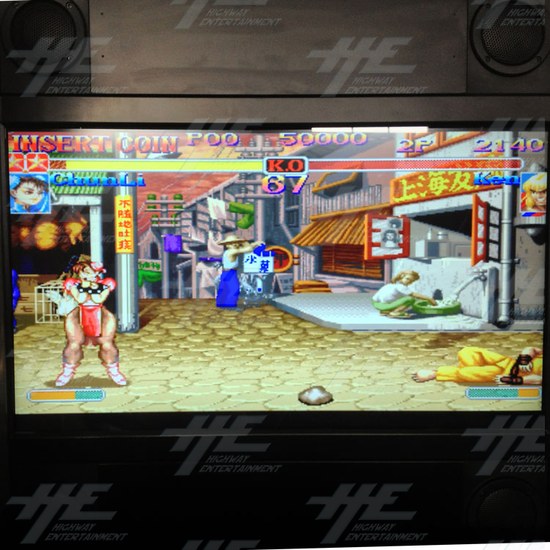 Game Wizard Xtreme Grey Version Arcade Machine - Screen View
Game Wizard Xtreme Grey Version Arcade Machine - Control Panel
Game Wizard Xtreme Grey Version Arcade Machine - Stools