| | |
| --- | --- |
| | Slush Machine- XRJL15LX1 |
The Slush Machine XRJL15LX1 is a great slushy machine for family events or parties. Its 15L tank can turn any drink into slushies within minutes.

The machine has a 500W powered compressor between 110-240V. Its stainless steel panel and evaporator is high grade and easily cleanable. The machine features a double side refrigeration system leading to a fast refrigeration and high efficiency. The PC tank is a high/low temperature resistance.

The XRJL15LX1 Dispense a variety of frozen beverages such as granita drinks, frozen cocktails, fruit juices, smoothies, coffees, cappuccino and tea slush beverages such as Raspberry, Cola, Strawberry, Blue Lemonade slushies and many more, also offering alcoholic drinks like Strawberry Daiquiri, Midori Illusion, Pina Coladas, Margaritas and more.

The Slush Machine XRJL15LX1 is widely used in hotels,bars,restaurants,coffee hall,drink shops and movie theaters. This machine is perfect for any venue for any type of drink.

Used once for demonstration purposes.

| | | | |
| --- | --- | --- | --- |
| Condition : | Excellent | Shipping Weight : | 55.000 kg |
| Physical Weight : | 42.000 kg | Location : | Australia |
| Warranty : | 30 Days Testing Warranty | Product Type : | Vending Machines |
| Version Type : | English Version | | |
Specifications:
Model: XRJL15LX1
Material: Stainless steel
Power: 500W
Voltage: 110-115V / 220- 2240V
Product Dimensions: (cm) 57 x 37x 73
Weight: 41Kg
Flavours:
Cola,
Blue Lemonade
Raspberry
Bubblegum
Strawberry
Lemonade
Green Apple
Passionfruit
Lime
Orange, Pineapple
Strawberry
Pine Lime
Lemon
Tropical
Watermelon
Wild Berry
Blueberry
Mango
Cocktail Flavours:
Pina Colada
Midori Illusion
Caribbean Cruise
Cosmopolitan
Hurricane
Margarita
Sex on the Beach
Mango Daiquiri
Pineapple Daiquiri
Lemon Lime & Bitters
Watermelon Daiquiri
Tequila Sunrise
Mojito
Coyote Ugly
Strawberry Daiquiri
Bahama Mama
Mudslide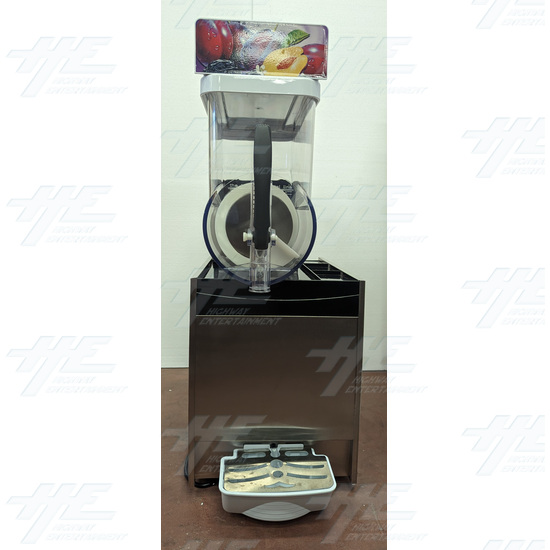 Slush Machine- XRJL15LX1 - Slush Machine- XRJL15LX1- Front
Slush Machine- XRJL15LX1 - Slush Machine- XRJL15LX1-Back
Slush Machine- XRJL15LX1 - Slush Machine- XRJL15LX1-Side
Slush Machine- XRJL15LX1 - Slush Machine- XRJL15LX1-Side2
Slush Machine- XRJL15LX1 - Slush Machine- XRJL15LX1-Pull Handle
Slush Machine- XRJL15LX1 - Slush Machine- XRJL15LX1-Buttons