73 Assorted Arcade Header Bulk Bundle

save 66%





Product ID :
16995-0014
Price :

208.15

USD

(Change Currency)
RRP: 618.09 USD
(less discount 409.94 USD)

Availability :
In Stock





The 73 Assorted Arcade Header Bulk Bundle includes 73 headers and player instructions from Sega, Konami, and more; perfect for those looking to collect artwork, update their machines or breathe new life into their gaming area.

This bundle features a range of different headers from a variety of popular arcade games. These header range from generic headers to factory originals and range in concdition. Some are in new condition, some are used, and some have slight damage (have been cut to fit or damaged unintentionally). This truly is a mixed bag!

The bundle includes:


2x Toshinden Battle Arena 2 Header
2x Konami Hell Night Headers
1x Virtua Striker Header
5x Namco Alpine Racer Headers
1x Xiand Sleena Generic Header
4x NBA Jam Tournament Edition Headers
2x Daytona USA DX Generic Header
3x Cobra Command Header
1x Sega Virtua Striker 2 Version '98 Header
2x Kuri Kinton Header
1x Vampire Savior Generic Header
5x JUMBO Skill Tester Headers
1x The Combatribes Header
3x Cyber Police ESWAT Headers
6x Mortal Kombat 3 Headers
1x Teenage Mutant Ninja Turtles Headers
6x Virtua Tennis 2 Soft Headers
4x Tekken Tag Tournament Headers
1x Platic Ticket Header
1x Sega Virtua Tennis Header
2x Konami Lightning Fighters Headers
1x Vapor Trail Header
1x Super Pierrot Generic Header
1x Virtua Tennis 2P Control Panel Decal
1x Suzuka 8 Hours Header
1x Power Instinct Header
1x Capcom Slam Masters Header
1x Samurai Showdown 4 Generic Header
1x Tutankham Header
1x Eleven Beat Header
1x Screen Sports Generic Gold Header
4x Latest Release Generic Header
2x SAR - Search and Rescue Headers
1x Virtua Tennis 2 Printed Control Panel Decal
2x Sports Jam Sega Header

This is an amazing bundle of headers! Don't miss your chance to grab some arcade collectibles and artwork at incredibly low prices! If you are interested in this bundle, you can contact our sales staff for more information or go straight to checkout.

| | | | |
| --- | --- | --- | --- |
| Unit Dimensions : | 50.0W x 34.0D x 30.0H cms | Condition : | Used |
| Shipping Weight : | 10.200 kg | Physical Weight : | 5.600 kg |
| Location : | Australia | Warranty : | No Warranty |
| Product Type : | Headers | | |
73 Assorted Arcade Header Bulk Bundle - Assorted Headers
73 Assorted Arcade Header Bulk Bundle - Assorted Headers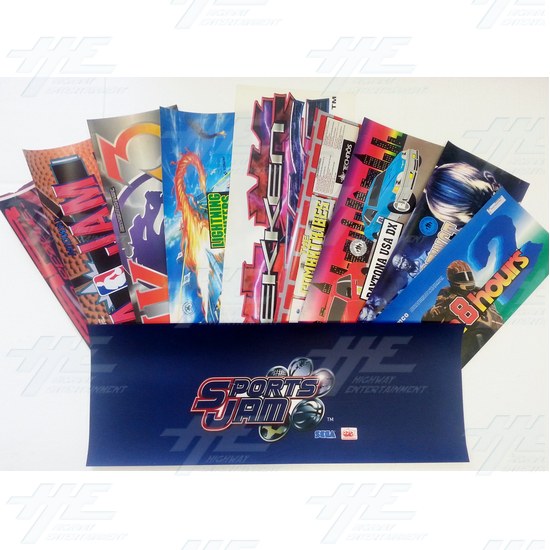 73 Assorted Arcade Header Bulk Bundle - Assorted Headers
73 Assorted Arcade Header Bulk Bundle - Assorted Headers
73 Assorted Arcade Header Bulk Bundle - Assorted Headers